Home » Posts tagged 'Medal of Honor'
Tag Archives:
Medal of Honor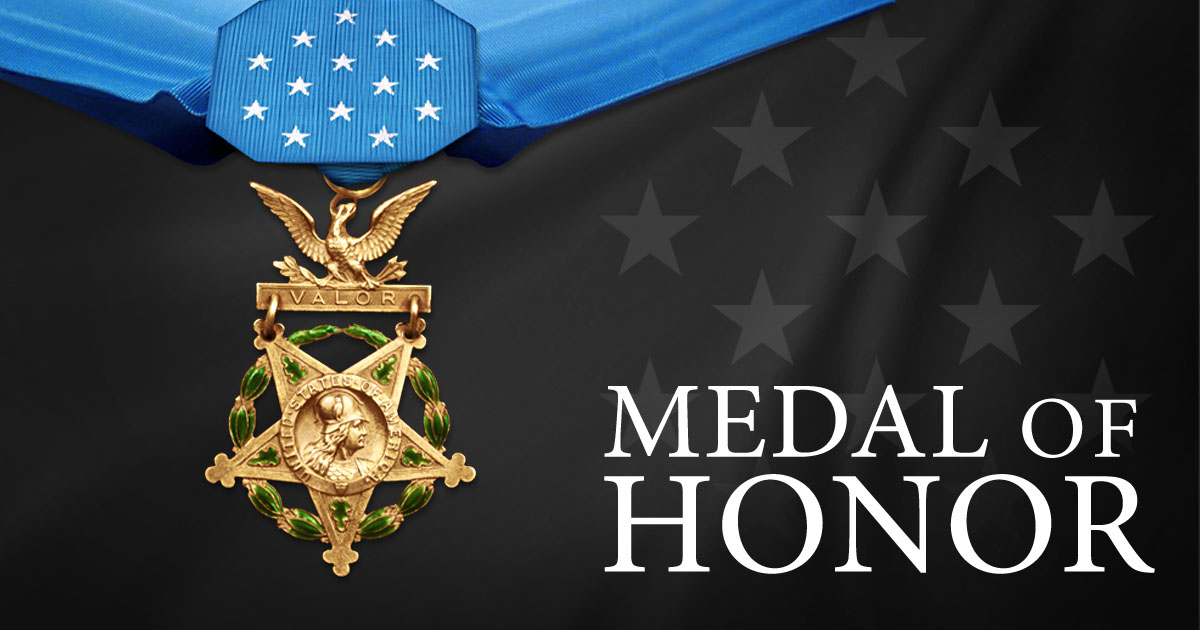 What is the highest Military Award?
The Medal of Honor has been awarded more than 3,500 times to members of the Army, Air Force, Navy, Coast Guard and Marine Corps. While the medal is earned in recognition of specific actions, it's never considered "won."
The Medal of Honor is the highest military award. It is given to military members, often posthumously, for "conspicuous gallantry and intrepidity at the risk of life above and beyond the call of duty." The Medal of Honor is awarded by the U.S. president, typically during a formal ceremony at the White House.
What 10 Additional Benefits and Privileges do Medal of Honor Recipients Receive?
A Special Medal of Honor pension of $1,619.34 (2023 rate) per month above and beyond any military pensions or other benefits for which they may be eligible. Most surviving spouses are also eligible for this pension The MoH pension is subject to cost-of-living increases and is tax free.
Special entitlements to Space "A" air transportation.
Enlisted recipients are entitled to a supplemental uniform allowance.
Commissary and exchange privileges (includes eligible dependents).
Admission to the United States military academies for qualified children of recipients – without nomination and quota requirements.
Ten percent increase in retired pay.
Medal of Honor Flag.
Allowed to wear the uniform at any time as long as the standard restrictions are observed.
Many states offer Medal of Honor automobile license plates.
Interment at Arlington National Cemetery if not otherwise eligible.
The last World War II Medal of Honor recipient and a West Virginia native, Hershel "Woody" Williams, passed away at the age of 98, on June 29th, 2022.
Born in West Virginia, "Woody" Williams grew up on a dairy farm. Before enlisting in the Marine Corps, Williams drove a taxi and then a truck for a construction company.
Initially rejected by the US Marine Corps for being too short, Williams persisted and prevailed, eventually becoming a Marine. He trained in San Diego, California, and was assigned to a tank battalion. He was subsequently transferred to demolition detachment as a flamethrower operator.
Woody deployed to the Pacific Theater via the SS Weltey Reden in late 1943. In January 1944, he was assigned to the 21st Marines, 3rd Marine Division and landed at Guam, where he saw his first combat.
He recalled a lesson he quickly learned in combat, "I strapped a flamethrower on my back and started crawling toward the pillboxes….I can remember bullets ricocheting off my air tank. And I don't know why I was smart enough to figure out that if I crawled closer, they couldn't get me. If I crawled backwards, they would have got me."
He served in the Battle of Iwo Jima with the 21st Marines, 3d Marine Division. During the battle, Mr. Williams displayed "valiant devotion to duty" and service above self as he "enabled his company to reach its objective". Mr. Williams' actions, commitment to his fellow service members, and heroism were recognized on October 5, 1945, when he received the Congressional Medal of Honor from President Truman at the White House.
Shortly after the Medal of Honor ceremony at the White House, Williams was discharged from the Marine Corps. Williams recalled that he struggled with the symptoms of post-traumatic stress disorder (PTSD) after the war, until he found solace in his religious faith in the 1960s. He would go on to serve as the Medal of Honor Association's chaplain.
Following the war, Woody worked for the Department of Veterans Affairs (VA) for 33 years as a Veterans Service Representative, allowing him to continue serving veterans and their families.
He served as the Commandant of the Veterans Nursing Home in Barboursville, WV for nearly 10 years, helping veterans who were often in their last years of life.
Woody traveled back to Iwo Jima with the National World War II Museum's Educational Travel program and graciously delivered the keynote address at the 2017 International Conference.
He founded the Woody Williams Foundation, a charitable 501c(3) nonprofit organization that pursues specific endeavors and goals through the vision of Medal of Honor recipient Hershel "Woody" Williams. The Foundation encourages, with the assistance of the American public and community leaders, establishing permanent Gold Star Families Memorial Monuments in communities throughout the United States, conducting Gold Star Families Outreach across the country, providing Living Legacy scholarships to eligible Gold Star Children, and advocating for educational benefits for all Gold Star Family members.
To date, Woody and his foundation are responsible for establishing 103 Gold Star Families Memorial Monuments across the United States with more than 72 additional monuments underway in 50 states and 1 U.S. Territory.
Please remember Woody Williams and his legacy to serve our nations veterans and their families.